1pm 11 Feb:
The wind sensor is not functioning, and has been down since 1pm on the 10th. I will try to fix it this weekend
Update, 11pm 15 Feb:
The sensor is not repairable for the foreseeable future (probably not until mid-2017). In its long absence, wind data is being served from a nearby weather station,
Harpenden weather
. All other sensors are currently working fine
Detailed Wind Data
Current
Measure
Value
Gust
14.7 mph
Max Gust Last Hour
24.1 mph
Speed
8.1 mph
10-min Speed
8.7 mph
30-min Speed
7.0 mph
1hr Speed
6.5 mph
24hr Speed
7.2 mph
Beaufort Speed
Moderate breeze (F4)
Direction
NNE
10-min Direction
NNE
30-min Direction
NNE
1-hr Direction
NNE
24-hr Direction
N
---
---
Day Average Speed
7.2 mph
Week Average Speed
4.2 mph
Month Average Speed
3.8 mph (-0.9)
Year Average Speed
4.8 mph (-0.2)
31-day Speed
3.7 mph
365-day Speed
4.9 mph
Day Average Direction
N
Month Mean Direction
W
Current Extremes
Measure
Today
Yesterday
Week
Month
Year
Max Gust
24.1 mph
22:05
22.0 mph
23:08
24.1 mph


Today

25.8 mph
21st
44.9 mph
28th Mar
Max Windspeed
12.7 mph
04:43
12.9 mph
08:57
14.7 mph
29th May
17.4 mph
2nd
27.5 mph
8th Feb
Max 10-min Speed
9.4 mph
04:44
10.2 mph
02:00
10.2 mph
30th May
14.3 mph
2nd
21.9 mph
8th Feb
Calmest Day
-
-
2.4 mph
27th May
2.0 mph
6th
0.3 mph
19th Jan
Windiest Day
-
-
6.5 mph


Today

7.6 mph
13th
13.2 mph
8th Feb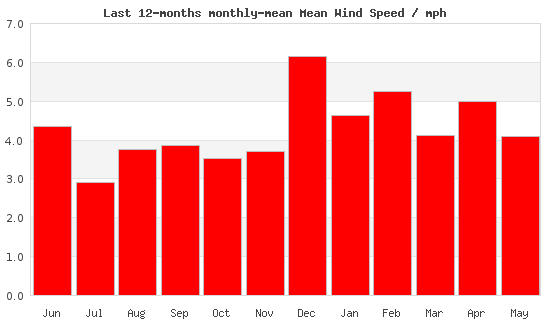 Note 1: Valid wind records began in August 2009.
Note 2: Figures in brackets refer to departure from average conditions.

A note on "Speed" vs. "Gust": "Speed" is the windspeed sampled over a one minute period, "Gust" is the windspeed sampled over a 14 second period.


Records
Measure
Overall
May
31st May
Max Gust
52.6 mph
24th Dec 2013
42.0 mph
Day 5, 2015
24.1 mph


Today

Max Windspeed
35.5 mph
14th Feb 2014
25.5 mph
Day 5, 2015
17.0 mph
2015
Max 10-min Speed
26.6 mph
14th Feb 2014
18.9 mph
Day 5, 2015
12.8 mph
2015
Calmest Day
0.3 mph
19th Jan 2016
0.8 mph
Day 16, 2014
1.0 mph
2014
Windiest Day
13.9 mph
11th Mar 2013
11.6 mph
Day 5, 2015
7.2 mph


Today
---
| | | |
| --- | --- | --- |
| May 2016 Windrose | | 2016 Windrose |
| | | |
NB: Daily wind speed maxima & averages for the current year (and all other years on record) can be viewed here