Daily Report for 3rd December 2018
Measure
Value (anomaly)
Time
Month cumul.
Record High
Record Low
Minimum Temperature
4.9 °C (+1.3)
23:57
7.8 °C (+4.1)
11.9 °C (+8.3),

2015

-4.7 °C (-8.3),

2010

Maximum Temperature
13.6 °C (+4.8)
12:22
13.7 °C (+4.8)
13.6 °C (+4.8),

2018

1.5 °C (-7.3),

2010

Mean Temperature
10.6 °C (+3.0)
11.5 °C (+4.5)
12.6 °C,

2015

-2.7 °C,

2010

Minimum Humidity
76%
18:13
80%
87%,

2017

54%,

2016

Maximum Humidity
89%
11:41
93%
98%,

2009

80%,

2016

Mean Humidity
84%
88%
93%,

2017

70%,

2016

Minimum Pressure
997 hPa
12:09
997 hPa
1027 hPa,

2013

992 hPa,

2009

Maximum Pressure
1013 hPa
23:46
1008 hPa
1031 hPa,

2013

1002 hPa,

2009

Mean Pressure
1002 hPa
1001 hPa
1029 hPa,

2013

997 hPa,

2009

Mean Wind Speed
6.4 mph (+1.3)
6.7 mph (+1.6)
8.9 mph,

2015

2.3 mph,

2013

Maximum Wind Speed
16.4 mph
10:57
15.8 mph
19.4 mph,

2015

7.1 mph,

2017

Maximum Gust
27.6 mph
14:04
27.2 mph
27.9 mph,

2015

10.4 mph,

2017

Mean Wind Direction
W
Rainfall
0.8 mm
7.8 mm (144%)
5.5 mm,

2012

Maximum Hourly Rain
0.4 mm
15:31
2.6 mm,

2015

Maximum 10-min Rain
0.4 mm
15:31
2.0 mm,

2015

Maximum Rain Rate
4.0 mm/h
15:31
54 mm/h,

2015

Minimum Dew Point
2.8 °C
23:57
5.9 °C
7.7 °C,

2015

-6.2 °C,

2010

Maximum Dew Point
11.2 °C
11:43
11.7 °C
11.3 °C,

2015

-0.6 °C,

2010

Mean Dew Point
8.1 °C
9.5 °C
9.4 °C,

2015

-4.2 °C,

2010

Measure
Value
Time
Month cumul.
Record High
Record Low
Night Minimum (21-09)
* 11.2 °C *
06:28
9.8 °C
12.7 °C,

2015

-4.7 °C,

2010

Day Maximum (09-21)
13.6 °C
12:23
13.7 °C
13.6 °C,

2018

-1.9 °C,

2010

Max 10m Temp Rise
0.3 °C
10:08
0.3 °C
0.4 °C,

2012

0.1 °C,

2013

Max 1hr Temp Rise
0.8 °C
10:14
0.9 °C
1.6 °C,

2014

0.3 °C,

2009

Max 1hr Hum Rise
6%
11:28
6%
14%,

2014

1%,

2013

Max 10m Temp Fall
0.7 °C
15:41
0.4 °C
0.7 °C,

2018

0.2 °C,

2012

Max 1hr Temp Fall
2.2 °C
16:30
1.1 °C
2.2 °C,

2018

0.5 °C,

2013

Max 1hr Hum Fall
7%
17:56
5%
19%,

2012

3%,

2010

Max 10m Wind Speed
12.1 mph
14:09
11.6 mph
15.9 mph,

2015

5.0 mph,

2017

Minimum Feels-like
3.2 °C
22:47
6.5 °C
12.6 °C,

2015

-9.7 °C,

2010

Maximum Feels-like
15.3 °C
12:22
15.7 °C
15.3 °C,

2018

0.1 °C,

2010

Mean Feels-like
10.9 °C
12.3 °C
13.6 °C,

2015

-5.7 °C,

2010

Air-frost Hrs
0 hrs
0 hrs
22 hrs,

2010

0 hrs,

2009

Measure
Value (anomaly)
Month cumul.
Record High
Record Low
Temperature Range
8.7 °C (+3.5)
5.9 °C (+0.7)
8.7 °C (+3.5),

2018

1.2 °C (-4.0),

2015

Humidity Range
13%
13%
38%,

2011

9%,

2017

Pressure Range
16 hPa
11 hPa
16 hPa,

2018

2 hPa,

2016

Measure
Value [% of max]
Month cumul.
Record High
Record Low
Sun Hours
0 [0%]
1 hrs (21%) [4.6%]
3 [41%],

2016

0 [0%],

2009

Wet Hours
2
[Mean rain rate: 0.4 mm/h]
10 hrs (167%) [14%]
7,

2012

0,

2010

Cloud Cover
unknown
Events
None
Comments
blr
Extra Comments
Issues
None known
Observer Absent?
No
Notes

Times of extremes are computed using the midpoint time of the extremum (if the value persisted for >1 minute).
Cumulative anomalies are reported according to the expected value for the month-to-date rather than month-end.
Sun hrs, Wet hrs, Cloud cover and Events are based on manual equipment/observations; their reliablity is questionable and they are provided for interest only.
View monthly summary
Daily Graph of Conditions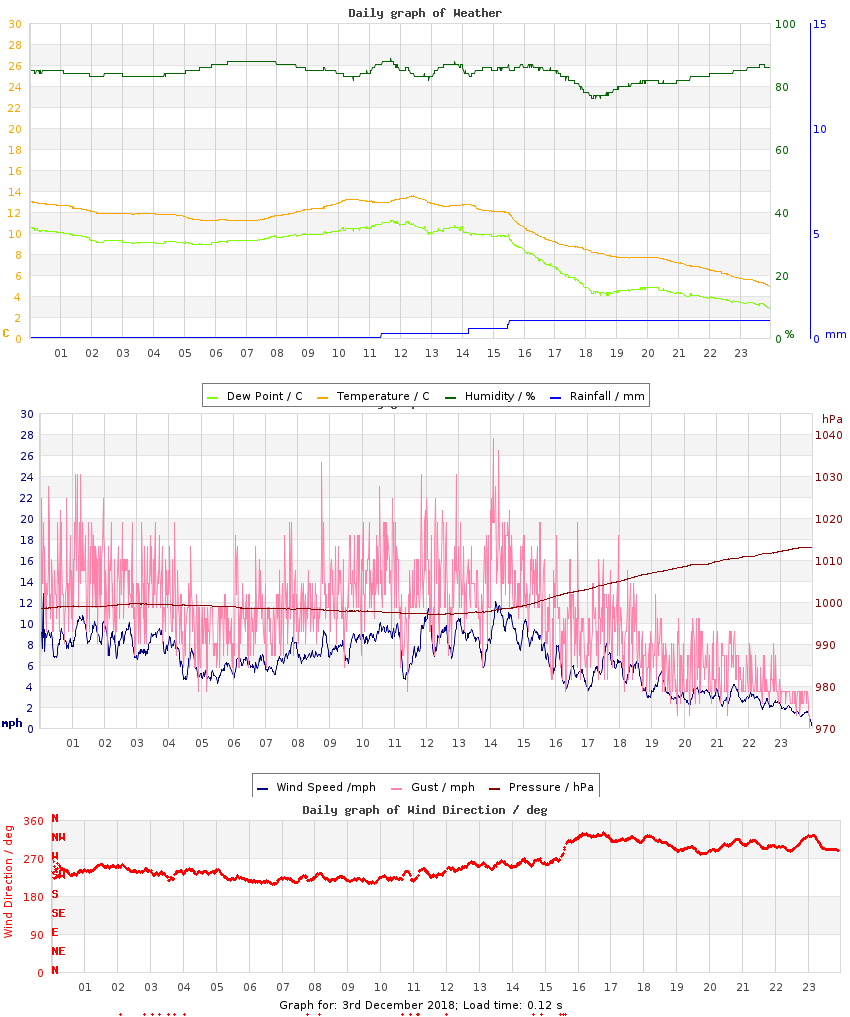 Webcam Summary of Cloud Conditions