Daily Report for 28th April 2020
Measure
Value (anomaly)
Time
Month cumul.
Record High
Record Low
Minimum Temperature
6.9 °C (+1.0)
23:12
6.3 °C (+1.2)
9.8 °C (+3.9),

2014

0.1 °C (-5.8),

2013

Maximum Temperature
10.4 °C (-4.0)
00:03
17.7 °C (+4.9)
21.6 °C (+7.2),

2010

9.3 °C (-5.1),

2012

Mean Temperature
8.0 °C (-1.5)
12.0 °C (+3.1)
15.1 °C,

2010

7.0 °C,

2009

Minimum Humidity
72%
00:35
45%
88%,

2018

31%,

2015

Maximum Humidity
95%
21:38
86%
97%,

2009

77%,

2015

Mean Humidity
90%
66%
94%,

2012

52%,

2015

Minimum Pressure
1005 hPa
16:28
1017 hPa
1016 hPa,

2011

997 hPa,

2009

Maximum Pressure
1008 hPa
00:00
1023 hPa
1026 hPa,

2010

1005 hPa,

2009

Mean Pressure
1006 hPa
1020 hPa
1020 hPa,

2010

1001 hPa,

2009

Mean Wind Speed
5.3 mph (+0.4)
4.6 mph (-0.3)
7.4 mph,

2015

1.9 mph,

2017

Maximum Wind Speed
13.4 mph
08:06
12.9 mph
19.5 mph,

2016

7.4 mph,

2017

Maximum Gust
20.7 mph
08:07
19.2 mph
29.4 mph,

2016

10.5 mph,

2017

Mean Wind Direction
ENE
Rainfall
11.4 mm
13.9 mm (30%)
11.4 mm,

2020

Maximum Hourly Rain
2.9 mm
10:54
2.9 mm,

2020

Maximum 10-min Rain
0.7 mm
10:11
1.3 mm,

2016

Maximum Rain Rate
18 mm/h
16:11
18 mm/h,

2016

Minimum Dew Point
5.4 °C
00:35
2.8 °C
5.6 °C,

2018

-3.8 °C,

2015

Maximum Dew Point
6.9 °C
06:15
8.0 °C
11.0 °C,

2014

1.2 °C,

2015

Mean Dew Point
6.3 °C
5.3 °C
7.8 °C,

2014

-1.0 °C,

2015

Measure
Value
Time
Month cumul.
Record High
Record Low
Night Minimum (21-09)
* 7.1 °C *
08:56
6.5 °C
9.8 °C,

2014

0.1 °C,

2013

Day Maximum (09-21)
* 7.9 °C *
14:01
17.6 °C
21.6 °C,

2010

7.9 °C,

2020

Max 10m Temp Rise
0.3 °C
11:47
0.7 °C
1.4 °C,

2009

0.2 °C,

2012

Max 1hr Temp Rise
0.6 °C
12:35
2.8 °C
5.5 °C,

2013

0.3 °C,

2018

Max 1hr Hum Rise
6%
01:37
10%
13%,

2015

3%,

2012

Max 10m Temp Fall
0.3 °C
08:07
0.6 °C
0.9 °C,

2009

0.2 °C,

2012

Max 1hr Temp Fall
0.8 °C
03:39
2.1 °C
2.0 °C,

2009

0.8 °C,

2012

Max 1hr Hum Fall
4%
13:23
12%
18%,

2013

2%,

2012

Max 10m Wind Speed
9.4 mph
11:32
9.6 mph
14.2 mph,

2016

5.1 mph,

2017

Minimum Feels-like
2.7 °C
11:42
4.2 °C
7.5 °C,

2010

-1.4 °C,

2013

Maximum Feels-like
10.4 °C
00:00
18.1 °C
22.2 °C,

2010

9.4 °C,

2012

Mean Feels-like
5.7 °C
11.6 °C
15.3 °C,

2010

5.7 °C,

2020

Air-frost Hrs
0 hrs
0.1 hrs
0 hrs,

2009

0 hrs,

2009

Measure
Value (anomaly)
Month cumul.
Record High
Record Low
Temperature Range
3.5 °C (-5.0)
11.5 °C (+3.7)
13.3 °C (+4.8),

2010

3.2 °C (-5.3),

2018

Humidity Range
23%
41%
53%,

2013

7%,

2018

Pressure Range
3 hPa
5 hPa
11 hPa,

2010

2 hPa,

2017

Measure
Value [% of max]
Month cumul.
Record High
Record Low
Sun Hours
0 [0%]
232 hrs (182%) [66%]
11 [83%],

2015

0 [0%],

2012

Wet Hours
14
[Mean rain rate: 0.8 mm/h]
18 hrs (41%) [2.6%]
15,

2012

0,

2010

Cloud Cover
Overcast
Events
None
Comments
long rain spells
Extra Comments
Issues
None known
Observer Absent?
Yes - observations may be unreliable
Pond Temperature (Heath)
5.0 °C
Notes

Times of extremes are computed using the midpoint of the longest continuous period at that extreme value.
Cumulative anomalies are reported according to the expected value for the month-to-date rather than month-end.
Sun hrs, Wet hrs, Cloud cover and Events are based on manual equipment/observations (entered with a delay of 1-10 days); their reliablity is questionable and they are provided for interest only.
View monthly summary
Daily Graph of Conditions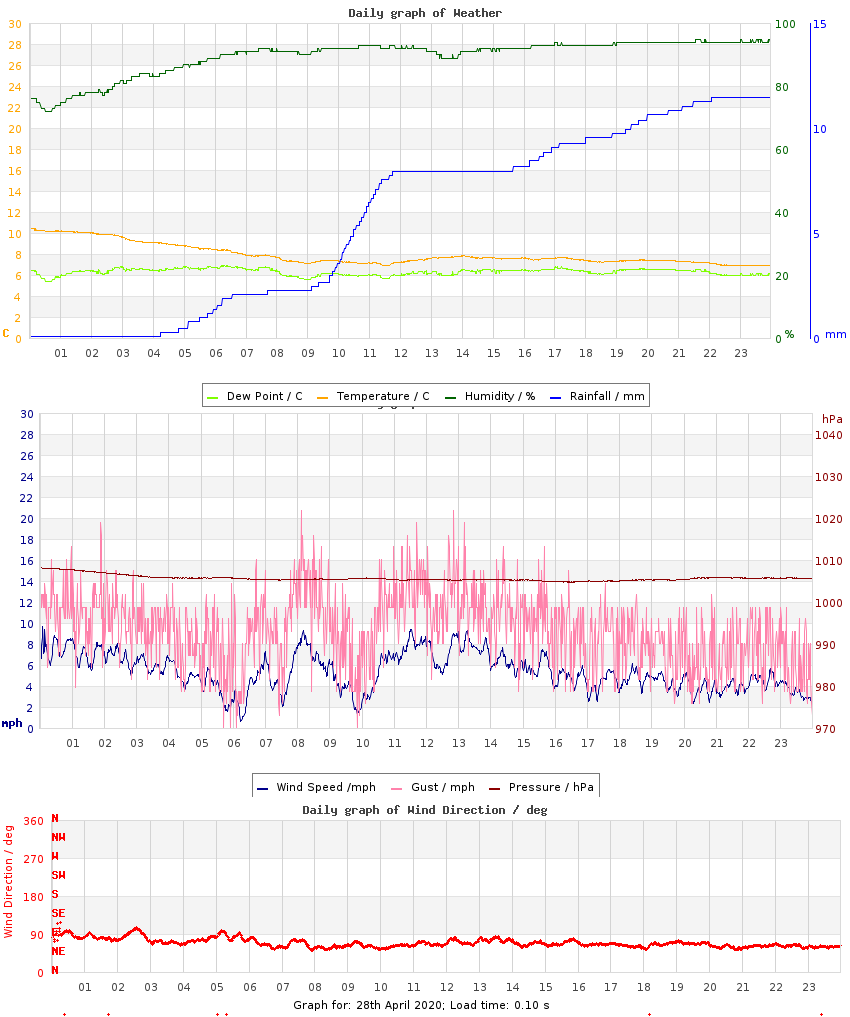 Webcam Summary of Cloud Conditions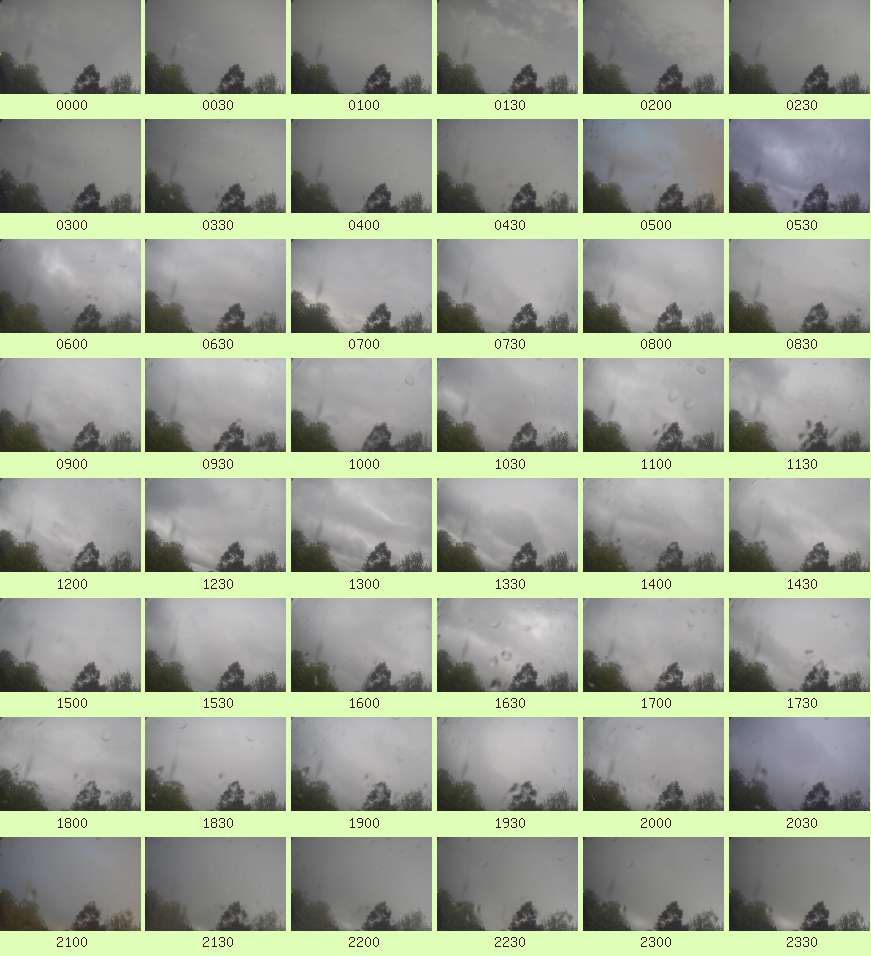 Full resolution individual images at up-to 5 minute intervals
Wind rose